Great news! Your kids are able to attend Kelly Sports OSCAR Programmes under all colours of the 'Traffic Light' system. Each colour is slightly different, so read below to learn more about how this will affect you.
In what has been an unpredictable environment, we realise the importance of safety, certainty and consistency for our kids, parents and caregivers and school communities for our programmes to operate under all COVID-19 Protection Framework (CPF) settings (Red, Orange and Green). We have strong systems and processes in place that have been modelled from the Ministry of Education and Ministry of Social Development CPF guidance.
KELLY SPORTS' 'PROTECT EACH OTHER' FRAMEWORK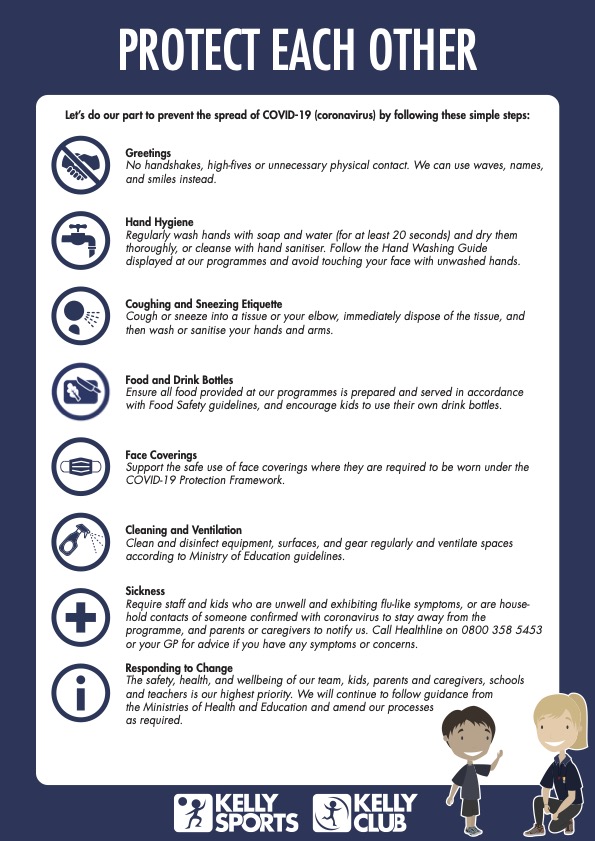 Kelly Sports' 'Protect Each Other' framework, which has been in use since the 2020 lockdowns, has been updated and will be in place as our foundations across all 'traffic light' colours.
While our aim is to run programmes as normally as possible, in behind the scenes our highly trained staff and coaches are taking additional health and safety measures:
Kelly Club Programmes have a specific COVID-19 Worksafe Safety Plan in place to ensure the safety of all key stakeholders in our programmes.
Updated COVID-19 Risk Assessment Management is in place to ensure we can operate safely under each CPF setting.
All staff and coaches are required to complete our COVID-19 Online Training Module prior to working onsite.
Following a period of closure, our programmes complete a COVID-19 Starting Back Checklist to ensure all proper safety measures are in place prior to opening.
In addition to our usual Daily Safety Checks, our programmes complete a COVID-19 Daily Safety Check.
Where visitors are allowed onsite, a COVID-19 Contract Tracing Register is in place.
Our programmes follow the Ministry of Education tool for the ventilation of spaces.
In addition to Basic Hygiene Measures (hand hygiene and coughing/sneezing etiquette), our programmes follow a specific 'Cleaning for COVID-19' Plan for the proper cleaning and disinfection of equipment, surfaces and gear.